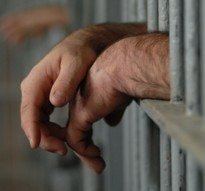 The Kansas department of corrections is coming under fire from the EPA for being unable to show they protected workers during an asbestos removal project in 2005 – a project that could have put them at risk for mesothelioma.
The Topeka Capital-Journal reports that inmates and former employees took part in the project, which involved grinding up and removing asbestos floor tiles and insulation in one of the dormitories.  Asbestos is a known carcinogen that can cause mesothelioma, asbestosis, and other cancers and the EPA has strict guidelines for its proper removal.  The corrections department appears to have followed those guidelines for asbestos removal projects in 2007, 2008, and 2009, using qualified abatement professionals and taking the recommended steps to protect those involved.   But no such records exist for the 2005 project.
The missing records are crucial because, without them, there is no evidence that workers on the project were properly protected from the serious health risks of asbestos dust. When lodged in the lungs, tiny asbestos fibers can lead to mesothelioma.  The longer and heavier the exposure to asbestos, the greater the chance of developing health problems over time.
If allegations made by employees and inmates who worked on the Topeka prison abatement project are true, their exposure may have been more than enough to put them at high risk for mesothelioma and other asbestos related diseases.  The workers claim that they were forced to remove asbestos-containing products with brooms, shovels and grinders, without the aid of protective gear or safety training.
In fact, workers have told EPA investigators that the asbestos dust created during the renovation was "horrendous" and so thick it coated clothes and repeatedly clogged furnace filters.  The removed materials were allegedly put into outside dumpsters, without following proper containment measures, before being hauled to a landfill.  This could theoretically put sanitation workers at a higher risk for mesothelioma, asbestosis, or other asbestos related cancers.
Because asbestos dust is so dangerous, removing it safely can be costly and time-consuming.  Typical precautions include ventilators and protective clothing for workers, vacuum cleaners, fans and air handlers, water spray to keep dust down, and special containment bags for removing it from the site.  But workers on the prison project claim to have had none of these things and to have worn only paper masks, which are not sufficient to prevent inhalation of asbestos fibers.
EPA investigators visited the prison in February and have passed their findings on to federal attorneys to determine what action should be taken.
Sources:
Carpenter, Tim. "Asbestos records lacking: EPA investigating work at women's prison in Topeka", March 14, 2010. The Topeka Capital-Journal.
Associated Press, "No records for asbestos work at Topeka prison", March 15, 2010. The Kansan.