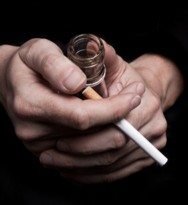 Patients with peritoneal mesothelioma face a poorer prognosis if they smoke or drink alcohol, finds a new study from researchers in Sydney, Australia. The good news from the study is that removing as much of the tumor as possible with surgery (cytoreduction) can extend patients' survival.
Peritoneal mesothelioma is a rare cancer, but people who develop it survive an average of just 7 to 13 months. The poor survival is largely due to the late stage at which the cancer is often diagnosed. Researchers launched the current study to determine which factors might prolong patient survival.
The study included 20 patients with peritoneal mesothelioma who were treated at the University of New South Wales Department of Surgery between 1997 and 2008. The patients underwent cytoreductive surgery to remove as much of the tumor as possible, followed by heated intraperitoneal chemotherapy with the drugs cisplatin and doxorubicin. Nineteen of the patients survived the treatment.
The average survival after surgery and chemotherapy was 30 months, a finding that is similar to the results of other studies, and which the researchers say is "encouraging." Patients went an average of eight months disease-free.
Certain factors appeared to significantly influence the mesothelioma patients' survival—including smoking and drinking alcohol. Nonsmokers had a disease-free survival rate of 11 months, compared to just 4 months in smokers, a finding that the authors say is likely due to the carcinogenic (cancer-causing) effects of nicotine. Patients who drank alcohol also had a far shorter survival than those who didn't drink, although the reason for this association isn't clear.
Age and gender were also factors influencing survival. Surprisingly, younger mesothelioma patients had a worse survival rate than older patients. Patients under age 55 had a disease-free survival of just 4 months, compared to an average of 15 months in patients over age 55. This may represent a sample bias, or "it could be reasoned that younger patients had a more biologically aggressive tumor compared with elderly patients," the authors write in the April issue of The American Surgeon.
Men faced a poorer outcome than women (8 months compared to 24 months). The authors say this gender disparity might be because tumors in women are less aggressive, or that women tend to seek treatment earlier in the course of their disease than men.
Two of the key factors linked to improved survival were cancer type (based on the appearance of cancer cells under a microscope) and the completeness of tumor removal during surgery. Patients with epithelioid type tumors survived disease-free 29 months, compared to just three months for patients with nonepithelioid tumors (biphasic or sarcomatoid). "Epithelioid [tumors] have consistently done better than biphasic and sarcomatoid in all mesothelioma studies of both peritoneal and pleural mesothelioma," says Terence C. Chua, BScMed, MB BS, professor of Surgery in the University of New South Wales Department of Surgery. "It is likely that the biology of the sarcomatous component is more aggressive."
Removing more of the tumor during surgery led to a 15-month disease-free survival rate, compared to only seven months in patients whose tumor was more difficult to remove. The authors say this finding highlights the importance of achieving a complete tumor removal. Dr. Chua says it also illustrates the need for patients with peritoneal mesothelioma to be treated at a peritoneal cancer center, by a surgeon who specializes in cancers that have spread (metastasized).
Although smoking and alcohol use were risk factors for poorer survival in this study, Dr. Chua says the results are still preliminary. It is too soon to know what impact smoking or alcohol cessation programs might have on peritoneal mesothelioma patients.
Source:
Tudor ECG, Chua TC, Liauw W, Morris DL. Risk factors and clinicopathological study of prognostic factors in the peritoneal mesothelioma. The American Surgeon. 2010;76:400-405.