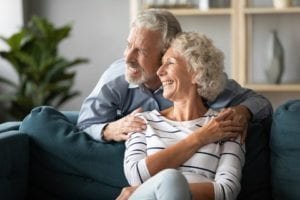 The makers of the immunotherapy treatment ONCOS-102 have released promising new data on its ability to promote long-term mesothelioma survival. The report came less than two weeks after ONCOS-102 got FDA approval to fast-track its development. 
ONCOS-102 is an investigational treatment made from a modified virus. The virus helps the treatment target mesothelioma cells while leaving healthy cells alone. 
The new long-term mesothelioma survival data shows half of people on ONCOS-102 and chemotherapy have lived for 21 months. And the study is not over yet. Typical survival with standard mesothelioma chemotherapy is about a year. 
Targovax says the data shows how valuable ONCOS-102 could be for patients with this rare but aggressive malignancy.
Standard of Care for Pleural Mesothelioma
Pleural mesothelioma is almost universally fatal. It starts on the membrane around the lungs and can spread to the lungs and throughout the chest. Part of what makes it so deadly is that doctors do not usually diagnose mesothelioma until it is in its advanced stages. 
Advanced mesothelioma is very hard to treat. Most patients start with a combination of the chemotherapy drugs pemetrexed (Alimta) and cisplatin. These drugs may extend survival for a few months. But patients rarely experience long-term mesothelioma survival with chemotherapy alone. 
A number of ongoing clinical trials are testing ways to make mesothelioma chemotherapy more effective. Some focus on chemotherapy before or after mesothelioma surgery. Others focus on combinations of chemotherapy and immunotherapy. 
The ONCOS-102 mesothelioma trial is a phase I/II trial adding ONCOS-102 to standard chemotherapy. The combination is being tested as both a first- or second-line treatment. 
Studying Long-Term Mesothelioma Survival
Thirty-one patients enrolled in the ONCOS-102 mesothelioma trial. Twenty of those patients received a combination of ONCOS-102 injections and standard chemotherapy. Eleven patients had only chemotherapy. 
Targovax released 12-month survival data last June and 18-month survival data last November. All 31 patients have now completed 21 months of follow-up. Half of the patients on ONCOS-102 and chemotherapy were still alive. For this cancer, that counts as long-term mesothelioma survival. 
"We have earlier seen and reported how ONCOS-102 drives profound remodeling of the tumor microenvironment. It is now becoming clear that this is translating into long-term survival benefit," Targovax Chief Medical Officer Dr. Magnus Jäderberg said in a statement. 
The trial is still ongoing. The ultimate median overall survival for the ONCOS-102 group is still unknown. But it looks like it will be more than 20.5 months. In contrast, the patients who received chemotherapy only had an overall survival of 13. 5 months. 
Dr. Jäderberg says ONCOS-102 might even promote long-term mesothelioma survival in combination with other treatments, such as immunotherapy. 
"The survival data also holds up well to the recently FDA-approved ipilimumab and nivolumab combination, confirming the relevance of immunotherapy in mesothelioma and strongly suggesting combining ONCOS-102 with checkpoint inhibition could further boost efficacy in this highly malignant and difficult-to-treat cancer," he says. 
Source:
"Continued survival benefit in Targovax's ONCOS-102 trial in mesothelioma at the 21-month follow-up", February 23, 2021, Press Release, Targovax, https://www.targovax.com/en/continued-survival-benefit-in-targovaxs-oncos-102-trial-in-mesothelioma-at-the-21-month-follow-up/