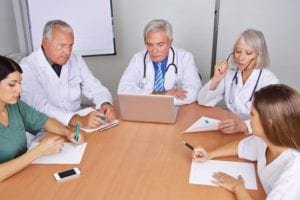 Italian doctors say patients are more likely to enter clinical trials when they have multidisciplinary care for mesothelioma.

Inclusion in clinical trials is one of the best ways for mesothelioma patients to access cutting edge treatments.

The study shows multidisciplinary care for mesothelioma helps funnel patients into trials. It also provides better monitoring of treatment response and better access to palliative care.
What is the Multidisciplinary Approach?
In most hospitals, mesothelioma patients receive diagnosis from a cancer doctor or oncologist. The oncologist orders the appropriate diagnostic tests and helps craft the treatment plan. Diagnostic imaging or radiotherapy for mesothelioma is usually overseen by radiology specialists.

But multidisciplinary care for mesothelioma involves a bigger team of people. The team consists of providers from different disciplines. A multidisciplinary team typically includes oncologists and radiologists. But it may also include specialists such as:
oncology nurses
case managers
pathologists
radiation oncologists
pharmacists
palliative medicine doctors, and others
Multidisciplinary care for mesothelioma provides well-rounded care for the whole person. It is the standard of care for several other cancers.
Assessing Multidisciplinary Care for Mesothelioma
Humanitas Gavazzeni Hospital in Bergamo, Italy instituted multidisciplinary care for mesothelioma in January 2017. The team includes
4 medical oncologists
a palliative care physician
2 radiologists
a radiation oncologist
a thoracic surgeon
a research nurse
and two data managers
A pharmacist, pathologist, and lab biologist help as needed. The team discusses multidisciplinary care for mesothelioma at diagnosis, during treatment, and in follow-up. The goal of the study was to see how the approach affected patient care. 

A total of 188 mesothelioma patients received referrals to the hospital between 2014 and October of 2017. Twenty-three of those patients were enrolled in 2017.

"Since the starting of multidisciplinary team meetings, 7/23 (30%) cases were subsequently enrolled in a clinical trial, versus 35/165 (21%) in the 2014-2016 period," writes lead author Letizia Gianoncelli. "The rate of patient inclusion in clinical trials is improved when a dedicated multidisciplinary team discusses all referred cases."
Other Benefits of Multidisciplinary Care
Multidisciplinary care for mesothelioma also gave more patients access to palliative care. Palliative care helps manage mesothelioma symptoms like pain and shortness of breath. The team approach also resulted in more careful tracking of patients' treatment response.

The researchers conclude that multidisciplinary care for mesothelioma is "very effective at providing timely diagnostic and therapeutic recommendations."

Multidisciplinary care is more common at high-volume cancer centers.  The Italian researchers say this is where pleural mesothelioma patients will get the best outcomes. 

Source: 

Gianoncelli, L, et al, "Malignant pleural mesothelioma multidisciplinary team unit: experience of one high-volume center in Italy", Annals of Oncology, Volume 28, Supplement 6, https://www.annalsofoncology.org/article/S0923-7534(20)34866-3/fulltext