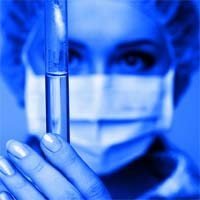 The excess lung fluid that is behind one of the most bothersome mesothelioma symptoms may be more than just a side effect;  it may actually contribute to the growth and spread of malignant mesothelioma.
More than 90 percent of mesothelioma patients will experience pleural effusion, a buildup of fluid in the space around the lungs. As fluid fills the pleural space, many patients develop shortness of breath and chest pain. Draining the fluid can help temporarily.
But a study conducted at Australia's Institute for Respiratory Health, the University of Western Australia, and Sir Charles Gairdner Hospital in Perth suggests that this fluid is not just a byproduct of mesothelioma growth. Their study suggests that it is biologically active and may play a role in mesothelioma progression.
Pleural Effusion and Mesothelioma
Pleural effusion is a side effect of several different kinds of cancer. To better understand its role in cancer, the Australian researchers took pleural fluid samples from 151 patients, including 56 mesothelioma patients.
After diluting the pleural fluid samples, researchers applied the resulting fluid to samples of different laboratory-grown mesothelioma cell lines with some surprising results.
"Pleural fluid from mesothelioma patients (diluted to 30%) consistently stimulated cell proliferation…in five mesothelioma cell lines," states the report summary. "The fluid also induced cell migration by (median) 2.13-fold in six mesothelioma cell lines using scratch-wound assay."
Whether the fluid was applied to mesothelioma cells from the same person who produced it, or to a different cell sample, the results were similar.
Lung Fluid's Effect on Mesothelioma Tumors
For a better understanding of the impact lung fluid might have in mesothelioma patients, the team took the experiment a step further and applied the fluid to mesothelioma cells that were being treated with pemetrexed and cisplatin – the most popular chemotherapy treatment for mesothelioma.
In all three cell lines tested, the lung fluid "significantly protected mesothelioma from cisplatin-pemetrexed-induced cell death", suggesting that pleural effusion may contribute to mesothelioma's treatment resistance.
In a third experiment, the researchers injected either the pleural fluid or saline into live mice that had been infected with mesothelioma. Tumors exposed to the pleural fluid grew "significantly faster" than those exposed to only saline.
The report concludes that malignant pleural effusions have "potent biological capabilities" in malignant pleural mesothelioma that warrant further investigation.
Source:
Cheah, HM, "Malignant pleural fluid from mesothelioma has potent biological activities", August 25, 2016, Respirology, Epub ahead of print,