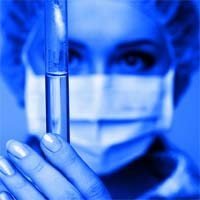 There is some exciting news for patients fighting malignant mesothelioma this week.
Two new potential mesothelioma drugs, both aimed at molecular targets, have moved a step closer to becoming viable treatment options.  
Mesothelioma Growth Inhibitor
The first drug making news this week is YS110, a monoclonal antibody that targets a protein called CD26.
CD26 is believed to play a role in mesothelioma tumor growth and invasion and in the process of cell death known as apoptosis. It is overexpressed in 85 percent of malignant mesothelioma cases.
When cancer researchers at Keio University in Tokyo exposed two different kinds of mesothelioma cells to YS110 in the lab, it slowed down the proliferation of one type by 20 percent in just 2 days.
The drug also appeared to act on a variety of signaling molecules in the mesothelioma cells, disrupting their normal cell cycle and causing them to enter their death phase sooner.
The news was even better when the drug was administered along with the chemotherapy drug pemetrexed (Alimta). Together, pemetrexed and YS110 significantly inhibited tumor growth and reduced the level of a cell proliferation marker called the MIB-1 index.
FDA Application Accepted
In a separate announcement, the makers of a small molecule inhibitor called tazemetostat say the FDA has accepted their Investigational New Drug (IND) application, paving the way for a phase 2 trial in mesothelioma patients.
Massachusetts-based biopharmaceutical company Epizyme says tazemetostat inhibits cell production of an enzyme called EZH2. Early testing suggests that some mesothelioma patients may be especially sensitive to its effects.
"Emerging preclinical findings from published reports suggest that mesothelioma, and particularly mesothelioma characterized with BAP1 loss of function, may be sensitive to EZH2 inhibition," the company said in a press release.
As many as 6 out of 10 mesothelioma patients have a loss of function of the BAP1 tumor suppressor gene.
Tazemetostat is currently being studied as a treatment for non-Hodgkin lymphoma. The company plans to launch a Phase 2 trial to test it as a new mesothelioma treatment later this year.
Surviving Mesothelioma will continue to follow the drug's progress and report on new developments.
Sources:
Hayashi, M, et al, "A humanized anti-CD26 monoclonal antibody inhibits cell growth of malignant mesothelioma via retarded G2/M cell cycle transition", Cancer Cell International, April 30, 2016
Epizyme Announces FDA Acceptance of Investigational New Drug Application for Tazemetostat in Mesothelioma, News Release, Epizyme website