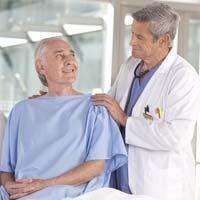 A mesothelioma drug approved for use in several European countries has received the backing of the international scientific community.
The drug called raltitrexed, whose brand name is Tomudex, was the subject of discussion at the 35th annual European Society for Medical Oncology congress in Milan, Italy. When combined with the chemotherapy drug cisplatin, Tomudex appears to increase the survival rates of mesothelioma patients. That conclusion was backed by studies conducted in 2003 and 2005 by the Netherlands Cancer Institute, the European Organization for Research and Treatment of Cancer, the Lung Cancer Group and the National Cancer Institute of Canada.
Malignant pleural mesothelioma is the most common form of an aggressive lung cancer caused by exposure to asbestos. It can take from 20 to 50 years to develop. Chemotherapy with the drug cisplatin is usually a first-line treatment. In the U.S., cisplatin is typically combined with another drug called Alimta (pemetrexed) when chemotherapy is recommended for mesothelioma.
In a study published in 2005 in the Journal of Clinical Oncology, researchers who tested the Tomudex/cisplatin combination on 250 mesothelioma patients found that 23.6 percent of them had a favorable response (compared to 13.6 for cisplatin alone). Fifty-eight percent of the dual-drug group had no new growth of their tumors and their average survival time was 11.4 months, compared to 8.8 months for cisplatin-only users.
Another significant finding of the study was a lack of myelosuppression, a decrease in bone marrow activity that often results from cancer treatment. Although mesothelioma patients on a pemetrexed chemotherapy mixture often experience myelosuppression and have to take additional doses of folic acid and vitamin B12 to counter the effects, the Tomudex/cisplatin patients did not have this problem.
Tomudex, which is marketed by the drug company Hospira, is not approved by the FDA. It is currently available in Portugal, the Czech Republic and Hungary but may be released in many more European countries by the end of the year. Belgian researcher J.P. van Meerbeeck, one of those who conducted studies on Tomudex, was quoted in a European news website calling the new treatment protocol "a welcome addition to our therapeutic portfolio".
Sources:
"Malignant Pleural Mesothelioma (MPM) Treatment – New Combination Therapy Found to Improve Survival Rates", October 14, 2010. Star Global Tribune news website. "Tomudex Treatment for Mesothelioma Receives International Backing", October 21, 2010. Press release from Hospira. WiredPRNews.com.