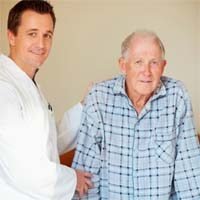 Malignant peritoneal mesothelioma is a rare form of mesothelioma that attacks the membrane that lines the abdomen and surrounds internal organs. The outlook for this rare malignancy, which affects fewer than 500 Americans annually, has been improved by the treatment combination of cytoreductive surgery (CRS) and hyperthermic intraperitoneal chemotherapy (HIPEC). The combination has produced 5-year overall survival rates ranging from 29% to 63%.
But not all peritoneal mesothelioma patients are good candidates for CRS/HIPEC. The challenge, for clinicians, is identifying which patients are likely to benefit from the procedure (or even be cured) and which are not. In an effort to help answer that question, French researchers recently tested the prognostic value of the glucose transporter protein GLUT1 as well as a number of other factors, in mesothelioma patients who underwent CRS/HIPEC.
The study focused on 28 peritoneal mesothelioma patients who were considered, based on current criteria, to be good candidates for CRS/HIPEC. All were patients at a French hospital between 1998 and 2010. Researchers reviewed the medical records and histopathological (microscopic) features of each case and then measured them against 24 clinical, histological and immunohistochemical mesothelioma parameters to see how each related to overall survival after surgery.
The study indicated that a number of factors had an influence on overall survival for peritoneal mesothelioma patients. They included certain patterns of growth and cellular characteristics, particularly in the epithelioid areas where cells meet, atypical cell division, and an overexpression of the proteins calretinin and GLUT1.  Of these, GLUT1 expression seemed to have the greatest influence on survival.
"Expression of the facilitative glucose transporter protein GLUT1 in the epithelioid areas was the only factor independently associated with overall survival by multivariate analysis," the authors write in the Annals of Surgical Oncology. Specifically, GLUT1 expression appears to be an indicator of poor prognosis in diffuse malignant peritoneal mesothelioma. The authors suggests that, pending further research, GLUT1 expression may be a better tool than current histological tests for selecting peritoneal mesothelioma patients for CRS/HIPEC treatment.
Sources:
Hommell-Fontaine, J, et al, "Malignant Peritoneal Mesothelioma Treated by Cytoreductive Surgery and Hyperthermic Intraperitoneal Chemotherapy: Is GLUT1 Expression a Major Prognostic Factor? A Preliminary Study", June 26, 2013, Annals of Surgical Oncology, Epub ahead of print.
Peyman, M, et al, "Diffuse malignant peritoneal mesothelioma – An update of treatment:, October 2012, Cancer Treatment Reviews, pp. 605-612.